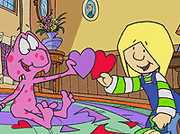 Katie and Orbie is a Canadian animated television series aimed at preschoolers, originally broadcast in Canada from 1994–2002 by Family Channel and later aired in the United States on PBS from 1996–1997 and on Disney Channel from 1997–2000. In Canada, the series aired uninterruptedly on Family Channel and (beginning on 2007) Disney Junior (formerly called Playhouse Disney) until December 31, 2012. The series has also aired in several countries around the world.
The animated series is based on a series of four environment-themed children's books titled Katie and Orbie Save the Planet, illustrated by Canadian cartoonist Ben Wicks and written by his daughter Susan Wicks, which were published in 1991. In 1993, Lacewood Productions adapted the characters into an animated series which was originally in production until 1996, being revived five years later by Amberwood Entertainment and then ending in 2002. Contrary to the original books, the series isn't strictly environment-themed, having stories that range from having a new pet or helping their friends, to address themes like children with divorced parents, Down syndrome and cerebral palsy, one of the few series aimed at preschoolers to do so.
It was narrated by actor Leslie Nielsen.
The theme song was written by Edmund Eagan and performed by his daughter, Mireille Eagan.
Mary Mackay-Smith wrote most episodes, with Ben and Susan Wicks serving as consultors during the first three seasons.
Unlike most TV series, the animation on Katie and Orbie was made in a technique referred to by producer Sheldon Wiseman as "picture-mation" similar to an electronic storybook, instead of coming to life, also, none of the characters actually speak, so a variety of sound effects are used during the stories. Another series produced by the same studio in 2000 and which was also narrated by Leslie Nielsen, Pumper Pups, also used the "picture-mation" technique.
International rights for the series were first owned by Entertainment Rights (which was also a producer company on seasons 4–6), which in 2009 was merged into Classic Media, now known as DreamWorks Classics. On March 25, 2010, Canadian company Entertainment One signed a deal with Amberwood Entertainment on which the company obtained the worldwide distribution rights to several of said producer's TV series, including all 78 episodes of Katie and Orbie. Amberwood Entertainment and Family Channel retain the rights for Canada.
Community content is available under
CC-BY-SA
unless otherwise noted.