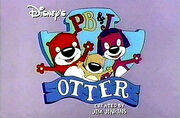 PB&J Otter is an American animated children's television series which premiered on Playhouse Disney on March 15, 1998. A total of 65 episodes were produced during the course of its three season run, with the "farewell" episode airing on September 24, 2000 (although a Halloween episode was the last aired episode, on June 21, 2001). The series centered on the otter family who lived in the rural fishing community of Lake Hoohaw. Most stories revolved around the Otter kids: older brother Peanut, younger sister Jelly and diapered baby Butter (named after the peanut butter and jelly sandwich), as well as their friends and neighbors. Supporting characters included gossipy Cranes, overly hygienic raccoons, a junk-collecting mayor and some very wealthy poodles.
The show was created by Jim Jinkins (the creator of Doug) and executive-produced by David Campbell in close conjunction with Harvard University's Cognitive Skills Group, "Project Zero". The Group's job was to monitor each and make sure the material had a positive educational message. This show features songs by Dan Sawyer and Fred Newman.
PB&J Otter was nominated for an Annie Award for outstanding music in an animated show in 2000.
Community content is available under
CC-BY-SA
unless otherwise noted.